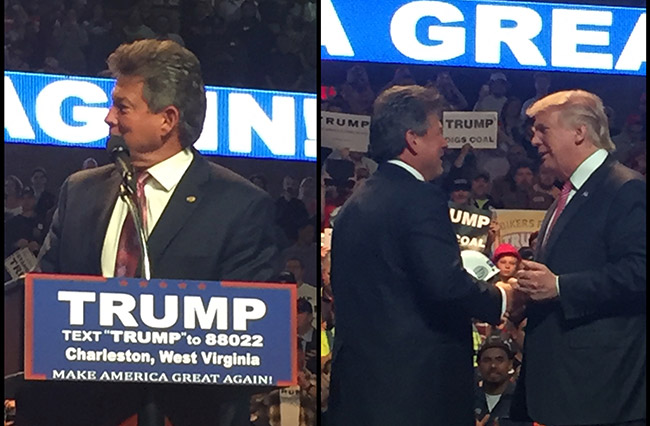 West Virginia Coal Association VP on Why the Organization is Backing Trump
FoxNews
During an interview with FOX Business Network's Charles Payne, West Virginia Coal Association Vice President Chris Hamilton discussed why he is endorsing presidential candidate Donald Trump and why he stands against both Hillary Clinton and President Obama.
Trump Digs Coal' at Charleston Rally
WV Public Broadcasting
Apparent Republican presidential nominee Donald Trump drew a crowd of more than 10,000 to the Charleston Civic Center Thursday for a campaign rally largely focused on revitalizing the coal industry.
Trump brings campaign to West Virginia and vows to put miners back to work
Fox11 News
Coming to the stage with West Virginia's signature theme song "Country Roads" blaring in the background, Donald Trump took the stage before a sign waving, cheering crowd and vowed to jump-start the state's coal industry.
WATCH: Trump dons coal miner's hard hat, pretends to shovel coal
Washington Examiner
At Donald Trump's rally in West Virginia, the presumptive Republican nominee received a gift from a coal mining association that endorsed him.
Trump gets behind coal at nearly sold out Charleston rally
WVMetroNews
Before a crowd of about 12,000 supporters at the Charleston Civic Center Donald Trump vowed to have the coal industry's back, with many miners at his back.
The Economics of Coal by Chris Hamilton
WVCoal Association
Coal is currently mined in 30 counties in West Virginia. According to data from the West Virginia Office of Miners' Health, Safety and Training, coal mining in West Virginia has provided an average of 23,000 direct mining jobs plus another 60,000 support jobs ...